Academic Papers
The board members and associates of The Corts Foundation are in part scientists who regularly write and publish scientific papers and articles and who contribute to or review papers and articles from other scientists and researchers.
Papers and articles which fall within the mission statement of The Corts Foundation can be published in PDF format on the site of The Corts Foundation. Readers who like to contribute a paper or article to the site are invited to contact the Secretary General of The Corts Foundation.
Review Board
Dr. Alicia Schrikker
mr. Nico A.M. Vriend MA
The Theatrical Peace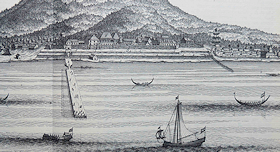 Full title: The Theatrical Peace: Honour, Protocol and Diplomacy in the Balance of Power between the United East India Company and Ternate c. 1750
By Dr. Hendrik E. Niemeijer
(© H.E. Niemeijer, May 2012)
Abstract
This paper deals with the relationship between the VOC government of Ternate (the northern Moluccan spice island) and the Sultan of Ternate in the 18th century. Formally this relationship was that between an overlord (the VOC) and his vassal, the Moluccan ruler. Although this problematic relationship was full of political manipulations and military threat of the local Fort Orange, there was also a political-cultural dimension in the reciprocal relations. In a specific local politico-cultural climate there was space for marks of honour, protocol, ritual exchange of gifts and ceremonial that contributed greatly to conflict prevention. The author argues that the local diplomatic 'system of contact', imbued with a feudal relationship, formed the foundation of eighteenth-century Dutch colonialism. The bulk of the gunpowder which John Company ever ignited in Fort Orange in the eighteenth century served no inimical purpose but was in the form of salutes for rulers who happened to sail by. Tea visits, appointment ceremonies, birthday parties in the Company garden all left room for cultural exchanges that promoted a 'theatrical peace'.
Read the full contents of this paper in PDF (English, 1.3mb) >>
New discoveries from diplomatic letters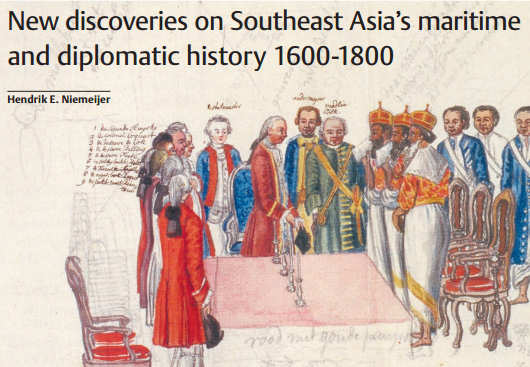 Full title: New discoveries on Southeast Asia's maritime and diplomatic history 1600-1800
By Dr. Hendrik E. Niemeijer
(© H.E. Niemeijer, March 2015)
Summary
This article in the news letter of the 'International Institute of Asian Studies' (IIAS) Niemeijer talks about the website of www.sejarah-nusantara.anri.go.id and the archives of the Dutch Eastindia Company that are published digitally in a collaboration project between The Corts Foundation (TCF) and the Arsip Nasional Republik Indonesia (ANRI).
This website not only shows scans, but also secondary entries to these digitized archival series. In the entries already thousands of diplomatic letters were found that can provide a better understanding of the diplomatic relations between local rulers and the High Government of Batavia. This index of letters is online since the end of 2014 with a geographical visualization and eight relevant articles on individual letters.
Read the full text of the article in PDF (English, 1mb) >>
The fulle edition of the news letter of IIAS is also available as PDF-download .